I believe I mentioned I enrolled in a silversmithing class at Mohawk, yeah? With Jane? That's right. We're college students now. Is two enough to start a sorority? A basset hound will be our mascot. Kappa Delta Slobber.
Anyway, last night was the second class and even though it was super-frustrating (I broke a few blades and could not get the tension on the jeweller's saws right no matter what I tried) and we've only been working with copper so far, I LOVE IT.
So far I have made the above circle and star as well as this…
A not entirely straight-edged ring band. Flat. Next week it will be round. And maybe one day I'll be anywhere close to as good as our instructor, Shannon Kennedy.
The below rings are probably my favourite of all her stuff, especially displayed this way.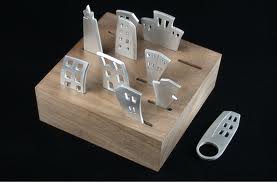 Whaaaaaaaaat? So cool. While I wait to get stellar at this, I've been buying stones I don't yet know how to set. Hopefully some level of skill comes soon because I'm clearly over excited/impatient to get going on far bigger projects than I'm ready for.