The backyard went a little (see: a lot) neglected last year. Not the case this year. We (by which I, of course, mean Sean) have whipped it into fighting shape for the beginning of the season. Best to start out one step ahead of the weeds and just hope we can maintain it now.
First off, we've got hops – the only plant that got serious attention last year. Number one: they're right at the side gate we use every day and number two: we have a pretty vested interest in making sure they survive – namely that our friend, Chips, makes sweet, tasty beer from them.
What doesn't do so hot? Every year, some combination of squirrels and birds swoops into town and eats every single one of the hundreds of peaches and apples on our trees when they're still green and tiny.
Miraculously, one single peach made it through to full fruit last year. We split it, shared it and Sean vowed never to lose another to backyard wildlife again.
This is his plan…
So far, so good.
Similarly, he is attempting to foil squash bugs by this method…
Badum-ching! Foil? That's foil. Can you tell that's tinfoil? Apparently that works. I'll let you know how things go. Before the infestation last year (which came as a result of trying butternut squash, which attracts squash bugs), we used to roll in zukes each summer. I'm serious. A single plant would put out about two a day.
What else is going on in the yard? Kale and rosemary…
…tomatoes and beans…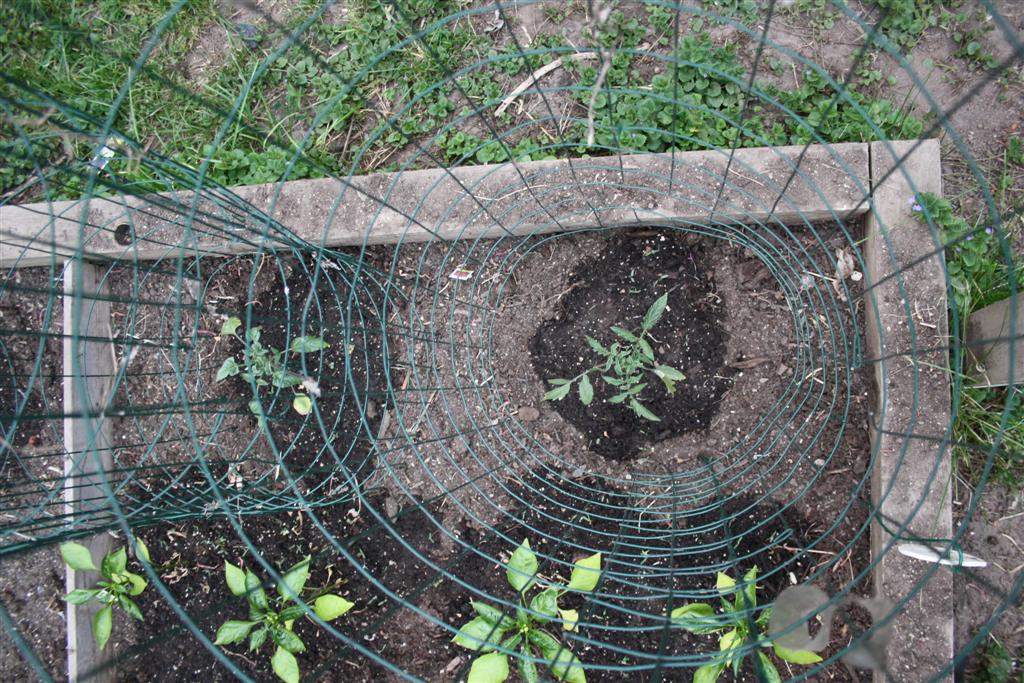 …raspberries I didn't get a picture of, and the next phase of Project Hoser:
She was put up on stilts so we could have the chassis checked out. It got a clean bill of health, so now we move on to fiberglassing some cracks before re-affixing and moving on to the interior.