I started "fleshing" at 9:30 last night, thinking it would take an hour and a half, tops.
I took the hide out of the water/dish soap solution and drained it for five minutes, rinsed it in fresh water, then drained it for another hour.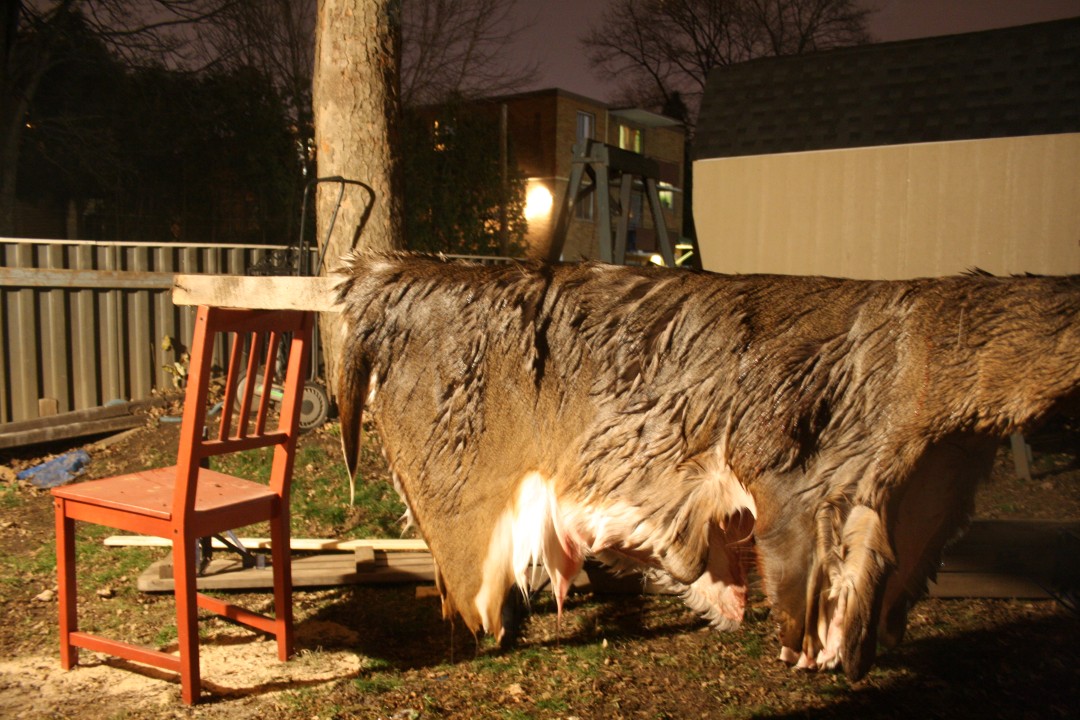 Next up, I laid it out and cleaned up the inside.
I did a pretty good job of this when I skinned it initially, so there wasn't much in the way of meat and fat to get rid of, but I was perhaps a little obsessive. I was so worried about getting rid of every last piece because if you don't do that, the tanning agents won't soak in and work their magic when you get to that point.
Just before 3am though, I was either satisfied or exhausted and moved on to mixing up 20 gallons of water and builder's lime in a giant bucket, then tossed the hide in.
It's supposed to soak here (with regular stirring) for about two days. After that, I should be able to slip all the hair off and get to work on the actual tanning. I'll let you know how that goes Thursday.
Word to the wise – wear gloves if you ever plan on doing this. Lime is awful. My hands are so dry and scaly today, they're catching all my clothes.
I practically had to wear mitts to photograph Lake and Larch stuff today.
Speaking of which, the below beauties will make their way into the shop tomorrow afternoon…