Saturday, what a day!
I finished cruiser kit version 2.0 and braved this morning's icy cooooool conditions to get out there for some photos.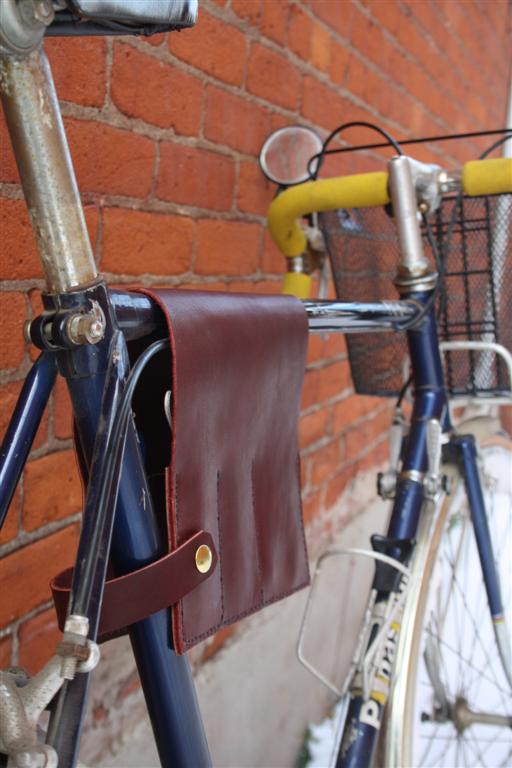 Similar to the roll-up except this one drapes over the crossbar. A brass snap at the rear keeps it anchored to your seatpost. Flip it the other way if you prefer to have it attached to your headset.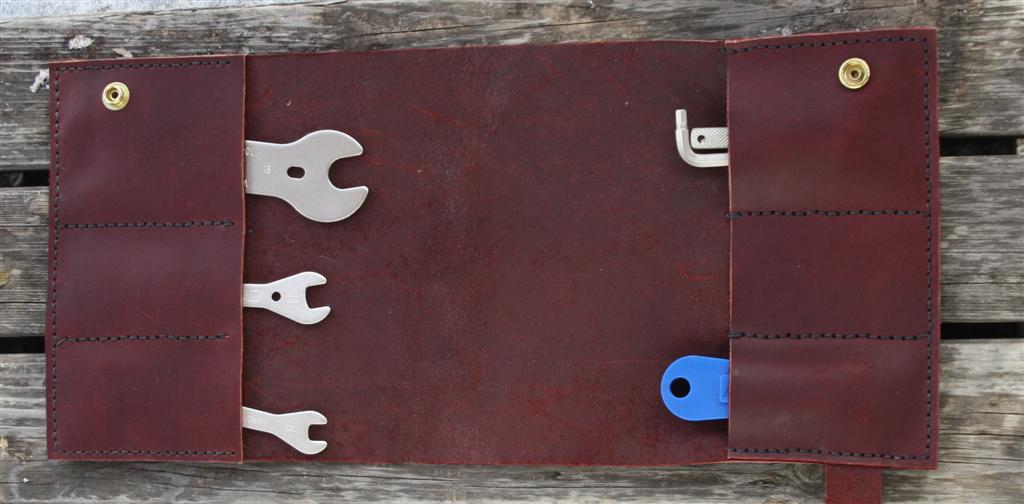 Brass snaps on the inside opposite the tab keep the other end closed.
Again, this is made of deep red latigo. Hundreds of holes measured and hand-punched. Hand-stitched with black waxed linen thread.
This kit comes complete with everything you need to tend to a vintage bicycle. Why are these kits tailored to old-school rides, you ask? Can I not buy one for my new Schwinn cruiser?
You can, but it might be overkill. The invention of quick release (seats, wheels, etc.), rendered wrenches a little useless. On new bikes, many minor repairs can be taken care of with a fistful of allen keys.
The old bikes however, have bolts galore and that's where this kit comes in handy. It includes…
- Park-brand RW1. A 32 mm headset wrench/15 mm pedal wrench for standard bolt-on wheel nuts (alternatively, this wrench is available in 36 mm headset size on request).
- Park-brand CBW1 and CBW4. 8/10 and 9/11 mm thin wrenches for brake bolts and other random nuts and bolts (most bolts on old bikes are 10 mm).
- Park-brand TL4 tire levers
- Topeak portable chain tool including a chain breaker and 5/6 mm allen keys.
Heading into the shop this morning. Soon to be available in a chocolate brown leather as well.